Britannica® School
A citable, online learning resource trusted by teachers and pupils.
The newly designed Britannica School will be guaranteed to enrich your learning experience as the most comprehensive and up-to-date digital informational literature for kids throughout the world. Britannica School aids students with in-class and distance learning by integrating Google Classroom, Clever, and other classroom technologies, as well as over 100k articles.

---
---

Adjust article complexity with a single click.
Students and educators can change reading levels while maintaining the age-appropriate look—ideal for classes of students at multiple reading levels!
Create collaboration with the lesson plan builder.
With the intuitive lesson plan builder, small or large groups can create deeper collaboration by reviewing and adapting ready-made lessons on various subjects.
Save time with the easy-to-use content collector.
Teachers can group together related content types for activities and easily search, tag, save, and share content.
Britannica School provides educators and students with:
Differentiated reading levels
The ability to create resource bundles
Trusted content to support classroom lessons
Optimal support for blended learning environments
The World Atlas and other culturally responsive content
Britannica School is a citable, online learning resource trusted by teachers and pupils.
The information in Britannica School is aligned to the national curriculum, updated daily and spans a range of media, including video, images and audio content. Curated and checked by professional editors, it is the must-have learning and teaching digital resource.
With the ability to browse by subject, look for biographies, explore the World Atlas, compare statistical information between different countries and discover interactive resources, Britannica School makes digital learning more accessible than ever.
The breadth of resources available means that whether a school has a diverse catchment, mixed-ability classes or encourages project-based learning, teachers can easily cater for different needs.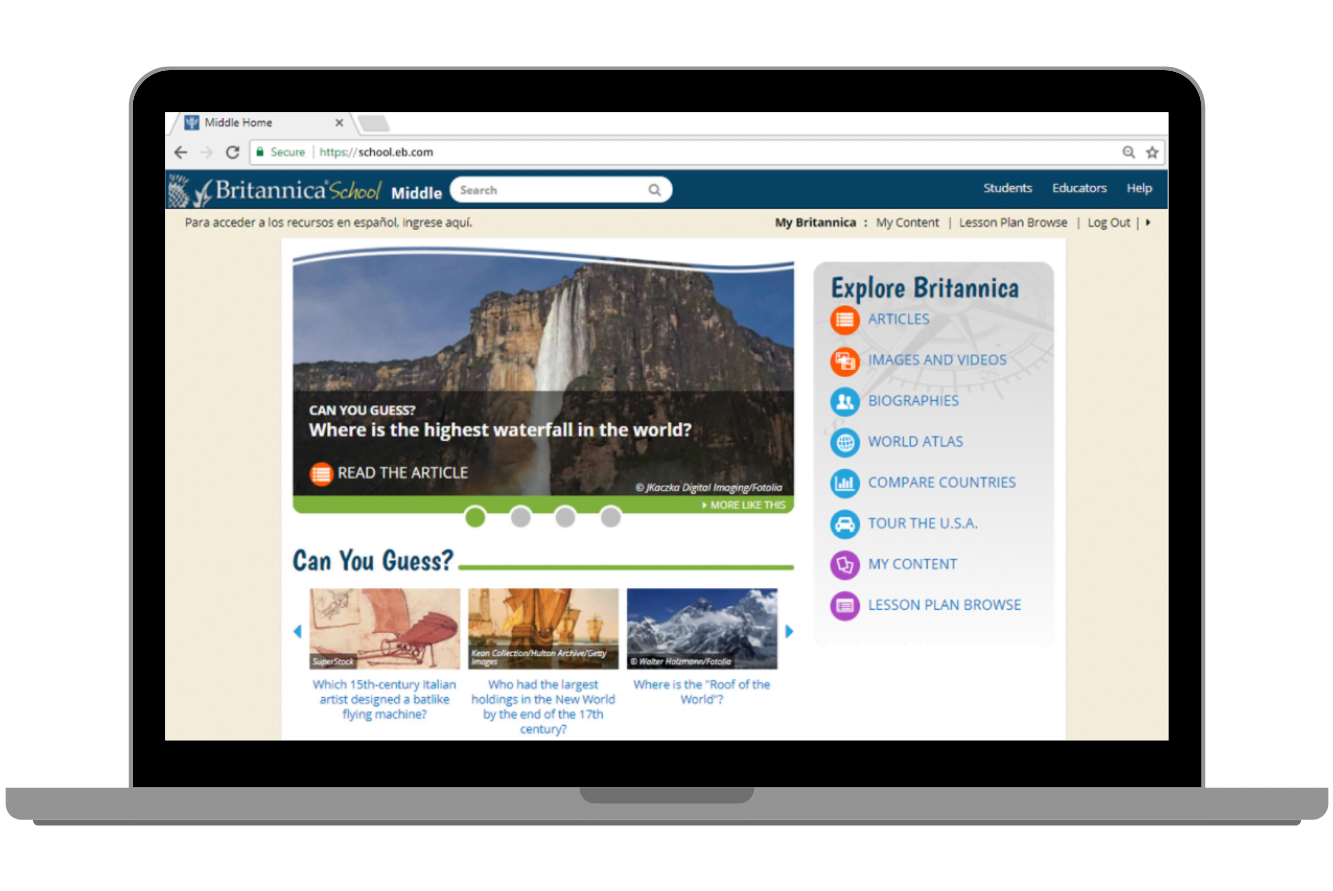 SUPPORTING TEACHERS
SUPPORTING TEACHERS
Britannica® Spotlights, part of Britannica School, is a series of mini websites that focus on key dates or curriculum-specific topics. The websites bundle together relevant articles, learning resources and lesson plans to help teachers deliver effective and engaging lessons. With the flexibility to use the resources online or offline, Teachers can embed videos or print images with the click of a button.
AGE APPROPRIATE
AGE APPROPRIATE
Whatever age the child, Britannica School encourages inquisitive minds in a safe online environment. We have created engaging features, such as quizzes, that encourage confidence in discovery and resources that make learning fun for younger children. For older students there is more challenging content and "how-to" guides that help students prepare large projects and presentations confident in the knowledge that they are using accurate, fact-checked information.
HOME LEARNING
HOME LEARNING
With anytime, anywhere access to Britannica School, students are able to access safe online resources to complete homework and develop their research skills using trustworthy, citable information. Britannica School also has tools that enable parents to support their child's learning, so teachers, parents and children can all work in partnership using the same resources.
Utilised by over 150+ million students in over 83 countries, Britannica's instructional content and supporting materials proudly reflect a culturally diverse perspective that is free of bias and informative for all students