CONSULTANCY AND END-USER TRAINING FOR CORPORATES, SMEs, AND PUBLIC SECTOR CLIENTS
TA is a leading, platform-agnostic, provider of Digital Transformation consultancy and end-user training services in the UK and across Europe, the Middle East and Africa.
As Microsoft UK's largest Global Training Partner in education and one of 4 Google certified training partners, our reputation and experience in delivering consultancy and training services are second to none.
We can now provide identical services to support colleagues from the world of business. Over the past 12-months, our experienced consultants delivered practical workshops on 'the effective use of our partner products to increase productivity to over 36,000 end-users either on-site or remotely.
Our aim is to assist our client increase productivity through robust, bespoke, end-user training, whilst exploring with them strategies linked to financial savings.
For multi-national clients, through our 12 established international franchises, we can provide services in Arabic, English, French, German, Hungarian, Korean, Lebanese, Polish, Portuguese, Russian and Turkish.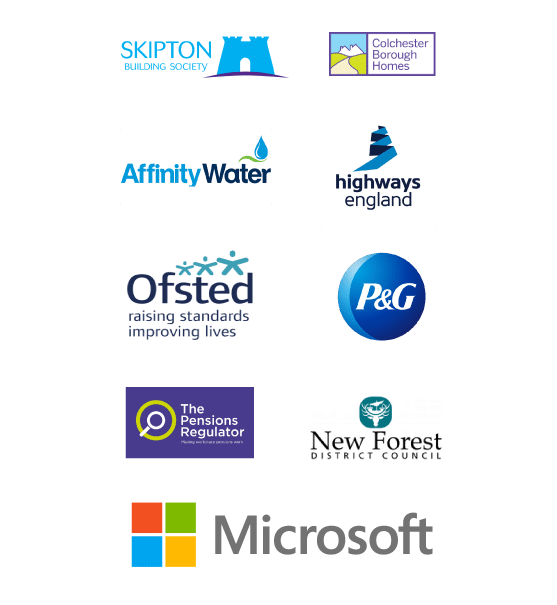 CONSULTANCY AND CHANGE MANAGEMENT SUPPORT
We recognise that each client has different and diverse needs when it comes to training. We therefore work closely with the client to ensure we gain a full understanding of their requirements. ​
The support we provide is not technical. We focus on end-user adoption and how this is communicated and delivered to staff, whilst carefully monitoring outcomes in order to improve productivity and save money.​
For requirements extending beyond a single training day, we always recommend a minimum of one consultancy session prior to any training being delivered. This allows us to customise the content to meet the client's specific requirements. 
We consult with your HR or Training department  

to identify appropriate questions to include in 

an online survey. 

​

A draft survey is shared with you for approval 

and any required amendments are made.

​

Once approved, we support you in developing 

an appropriate communication strategy to 

distribute the survey to the relevant staff. 

​

Staff complete the online survey which takes 

approximately 20 minutes.

​

Data is analysed manually by our consultants 

who produce a report containing a ´State of 

the nation´ section, and recommendations in 

creating a relevant professional development 

plan.
---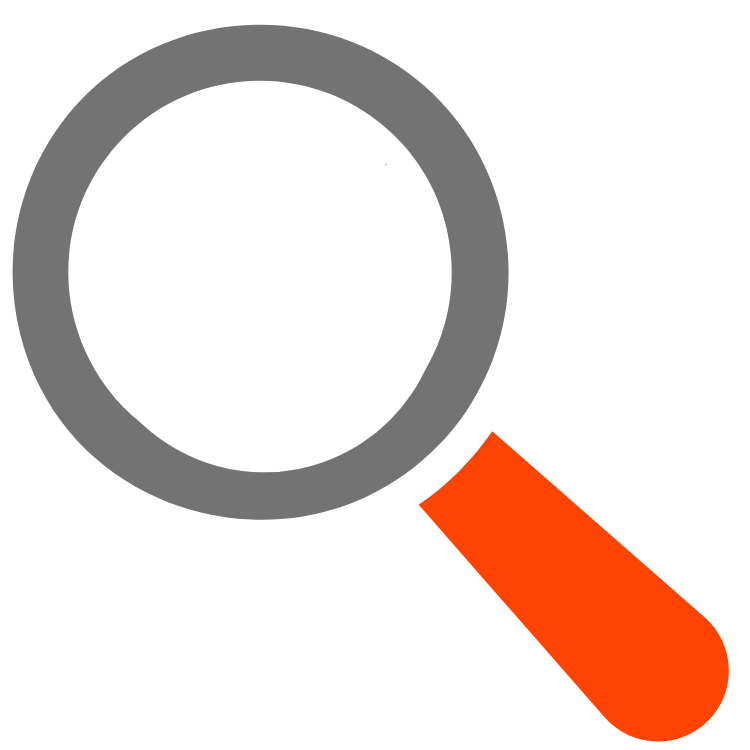 An optional Digital Skills Analysis of your staff is available as two distinct work packages:​
A Basic Skills Analysis conducted by your staff by 

completing an online self-evaluation survey. 

​

A Detailed Skills Analysis which includes the Basic 

Skills Analysis plus a workshop, and interviews with 

key staff.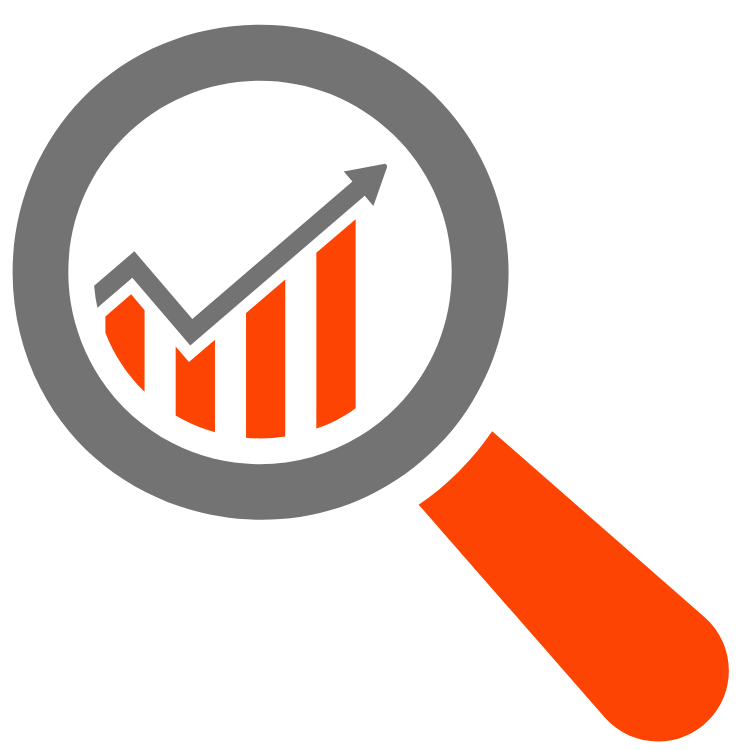 Data from this analysis is collated into a report which aims to inform:​
How best to deliver the required training

​

The priorities and levels at which to pitch the 

training 

​

How staff should be grouped for training sessions
The Process: Basic Skills Analysis
Consultancy tends to be tailored to meet your needs, but the following workshops are often delivered as independent sessions, or as part of a long-term programme.​
Art of the possible workshop for leadership

​

Creating a digital strategy or digital 

transformation programme

​

Structuring your cloud environment

​

Designing a professional development 

programme

​

Internal marketing and communications

​

Evaluating impact and measuring success
DIGITAL TRANSFORMATION PROGRAMME​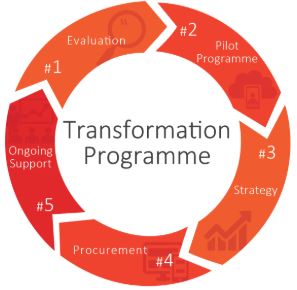 Impartial consultancy in the development and implementation of a holistic vision for a technology-enhanced workplace is created with the client's senior management team. This is designed to sit alongside a well-planned and well-structured IT strategy.​
Our Transformation Programme begins with an evaluation of the client's current use of technology in the workplace. The result of this evaluation is used to assist in the creation of a 3-year transformation strategy, including a full CPD programme based on the client's needs.​
A standard Transformation Programme is available for £3,000 (+VAT) and includes a minimum of one day per phase. ​
HANDS-ON OR REMOTE WORKSHOPS DELIVERED BY EXPERIENCED TRAINERS​
Our training services are delivered as practical, hands-on, group training sessions; live demonstrations; or as 1:1 surgeries to answer specific individual, or group questions.​
Prior to any training, a training plan is agreed in consultation with the client to ensure the required outcomes are achievable. The training is then delivered by our experienced trainers as either face-to-face, or remote workshops using Microsoft Teams, Zoom, Google Meet, or an alternative platform depending on the client's preference.
The Process: End-user Training
Bookings are processed by our bookings team

 

who will liaise with you to understand your

 

requirements before coordinating a prep call

 

directly between yourselves and your dedicated

 

TA trainer.


​

Following the call, your TA trainer will confirm the

 

agreed content, logistics and required

 

outcomes by email.


​

The training is delivered, and participants are

 

asked to complete feedback forms for quality

 

assurance.


​

Post delivery

, the bookings team will follow up to

 

ensure the delivery met your expectations and

 

to discuss any further support required.
---
TRAINING IS ARRANGED AS 2-HR (REMOTE ONLY), 4-HR (HALF-DAY), OR 7-HR (FULL-DAY) BOOKINGS. RECOMMENDED GROUP SIZE: 15-20 PEOPLE.
BESPOKE DIGITAL TRAINING RESOURCES​
---
RESOURCES CREATED SPECIFICALLY FOR YOUR AUDIENCE FOLLOWING YOUR GUIDANCE AND WITHIN YOUR DIGITAL WORKING LANDSCAPE.​
Digital resources can reinforce the learning delivered in practical workshops, and is a practical approach to supporting current employees, and onboarding new staff.​
By creating resources specific to your organisation, we can include demonstrations within your digital working landscape and reinforce messaging around compliance and security.​
For large clients we also support internal marketing campaigns to drive staff engagement or capture success in long-term programmes.
---
Creation of bespoke training videos within your digital 

working landscape, and following your organisational 

structure, policies and guidance.

​

Access to an online training platform with automated 

completion certification and progress monitoring.

​

Production of training resources with step-by-step 

guides.

​

Production of internal marketing videos or 

promotional literature to drive internal engagement. 

​

CPD website for sharing updates, training events, 

success stories, and training resources.

​

Video-based case studies demonstrating programme or pilot success as an aid in securing further internal investment.
VIDEO-BASED TUTORIALS COVERING OFFICE 365 PRODUCTIVITY TOOLS​
A cost-effective training model used to

 

support new starters and existing staff.

​

Ideal for blended training models with 40+ tutorials and new content added monthly.

Low-cost simple subscription model provides

 

access for all staff.

​

Short assessment at the end of each tutorial

 

to test knowledge acquisition.

​

Automated certification of completion, and

 

the ability for training managers to track

 

staff progress.

​

Easy to access 3-minute tutorial videos can

 

be combined to create full end-user courses

​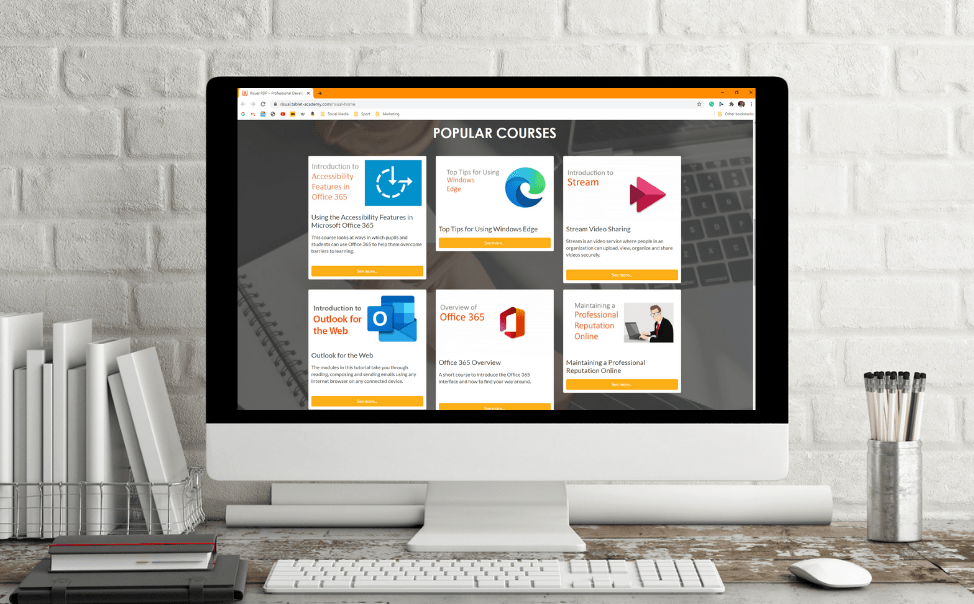 SECURE LONG-TERM SUPPORT AT A DISCOUNTED RATE​
Annual support packages providing on-going support. These are focused on using technology to improve productivity whilst ensuring best value for money.
​ Alternative bespoke support packages are designed and costed following consultation with the client.
10 Single Workshops
or 6 half Day Remote
16 Single Workshops
or 10 half Day Remote
24 Single Workshops
or 15 half Day Remote
5 half-days
or 4 full days
8 half-days
or 6 full days
12 half-days
or 9 full days
If your organisation has a Remote Support Package and require an on-site workshop,

 
​
this can be arranged with a one-off payment of £50 per event to cover travel expenses.
​
Strategic Consultancy,​ End User Training
Single Workshop
​ [Remote only]
Pricing for larger support 

packages and subscriptions to 

our online PD Platform are 

available upon request.