Brand New 1:1 Student Device Programme Launched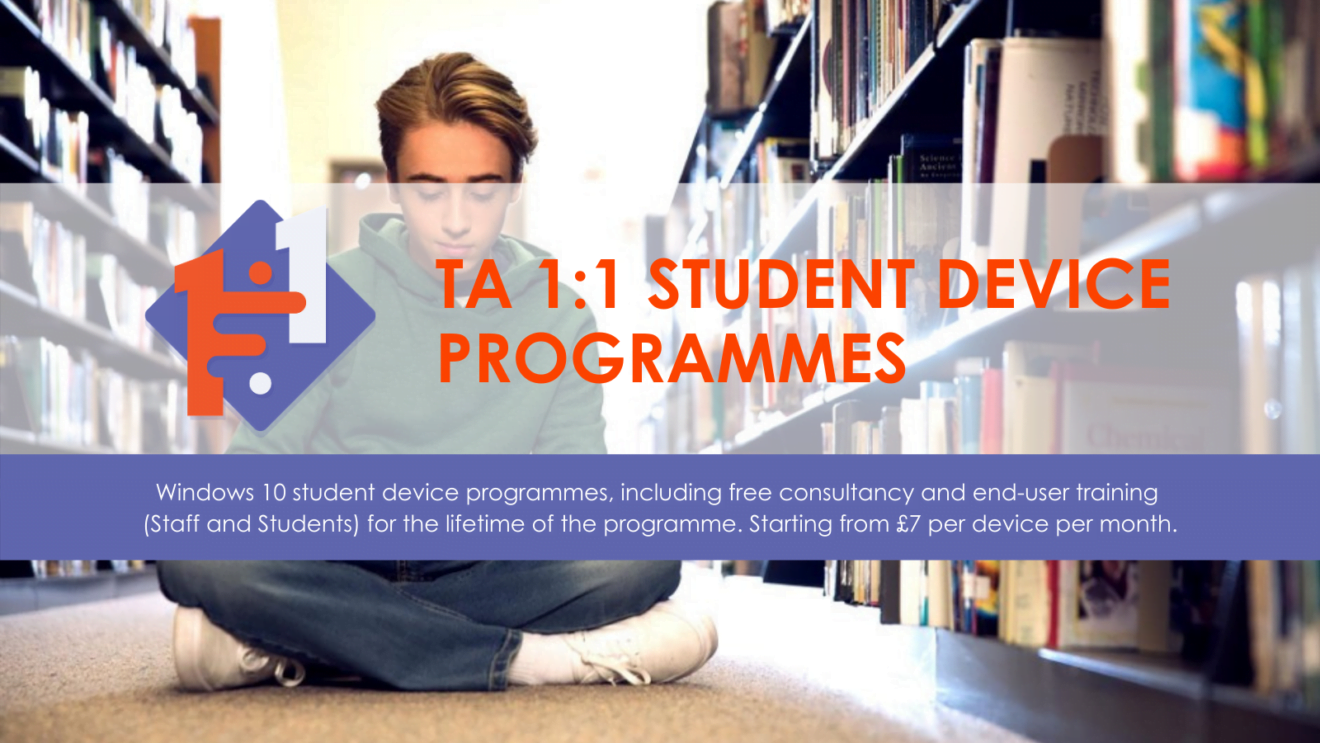 This week, TA announced a new 1:1 Student Device Programme for UK educational institutions.
The TA 1:1 Student Device Programme is designed to address the problem of a lack of digital equity of students within UK schools. By teaming up with leading industry partners the programme will provide free strategic advice, guidance, and end-user training to help school leaders, teachers and students get the very best from a Windows 10 student device programme from as little as £7 per device per month.


"School closures, instigated by the government as part of a COVID-19 pandemic lockdown strategy brought home to schools not only in the UK but across the world the lack of Digital Equity between students even within the same school. We are pleased that our device partners have stepped up the challenge to resolve this problem by helping us provide a flexible, low-cost programme that offers the additional advances of free consultancy and teacher, student, and even parent training for the life of the programme for less than the price of a packet of cigarettes per month." Says professor Steve Molyneux, Chairman of Tablet Academy International.


As part of the TA 1:1 Student Device Programme schools can:


Explore a variety of financial models such as charitable donations, parental contributions, and leasing.
Weigh up the costs against the benefits concerning considerations such as insurance, warranty, and accessories.
Identify the right device based on affordability and functionality linked to their teaching and learning strategy. 
Successfully embed your device programme by training IT staff, teaching staff and supporting your students to develop the necessary digital skills.
AT A GLANCE
Catch up on some of TA news you may have missed
TA (UK) Announces Milestone of Teachers Trained to Support Remote Learning
40,000 Teachers upskilled to teach using Microsoft Teams or Google Classroom during the Pandemic. Tablet Academy (TA) today announced that the company had reached a milestone in its training of teachers to use Microsoft Teams or Google Classroom to teach and support students learning remotely. Over the past 12 months, education consultancy and teacher training company TA have trained over 40,000 teachers in the use of technology to support their …
Free STEM Workshops and 3D Printing Competition
TA has teamed up with Craftbot and the RAF Youth & STEM Team to provide 4 Secondary Schools with the chance to participate in a 3D printing challenge and win a Craftbot Plus Pro 3D Printer Bundle (worth £1,600). We are searching for enthusiastic and open-minded teachers, looking to inspire their students with the world of STEM and 3D printing. …
Presenting the STAAR (Summer Time Advanced Aerospace Residency) Programme with the RAF Museum, Cosford
The STAAR (Summer Time Advanced Aerospace Residency) Programme is brought to you by Northrop Grumman, with the support of the Northrop Grumman Foundation, and in partnership with the RAF Museum. It is being delivered by Tablet Academy, the Museum, Royal Air Force Cosford and RAF Youth and STEM Team. STAAR is designed for Year 9 (Scottish S3) students who demonstrate …