By Professor Steve Molyneux, CEO, Tablet Academy International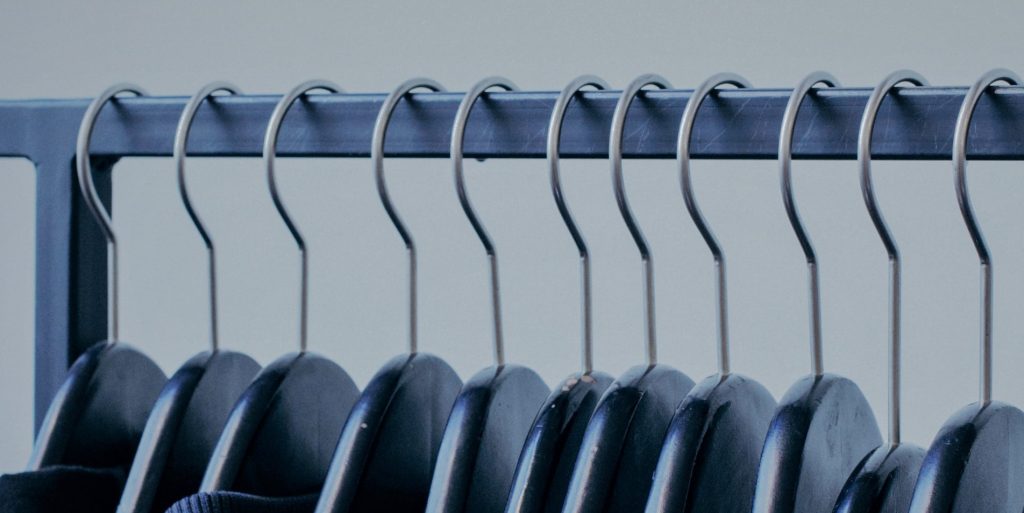 Where to look, who to talk to, are there any offers, how do I know this is the best deal? These are just a few of the difficult questions school leaders ask themselves when procuring high-value capital equipment such as Desktops, Laptops, and tablets. So, wouldn't it be great if they had support from an independent personal shopper who could help them with their next procurement of Windows 10 devices with the added bonus of finding them rewards and other funding possibilities?
Tablet Academy are proud to provide all UK schools with a free impartial personal shopper service which not only removes the hassle of sourcing multiple competitive quotes, but also helps identify additional funding that could be claimed when purchasing 25 or more Windows 10 devices.
How will you benefit from a Personal Shopper experience:
Its FREE
You will save you money
It will help you make wiser purchasing decisions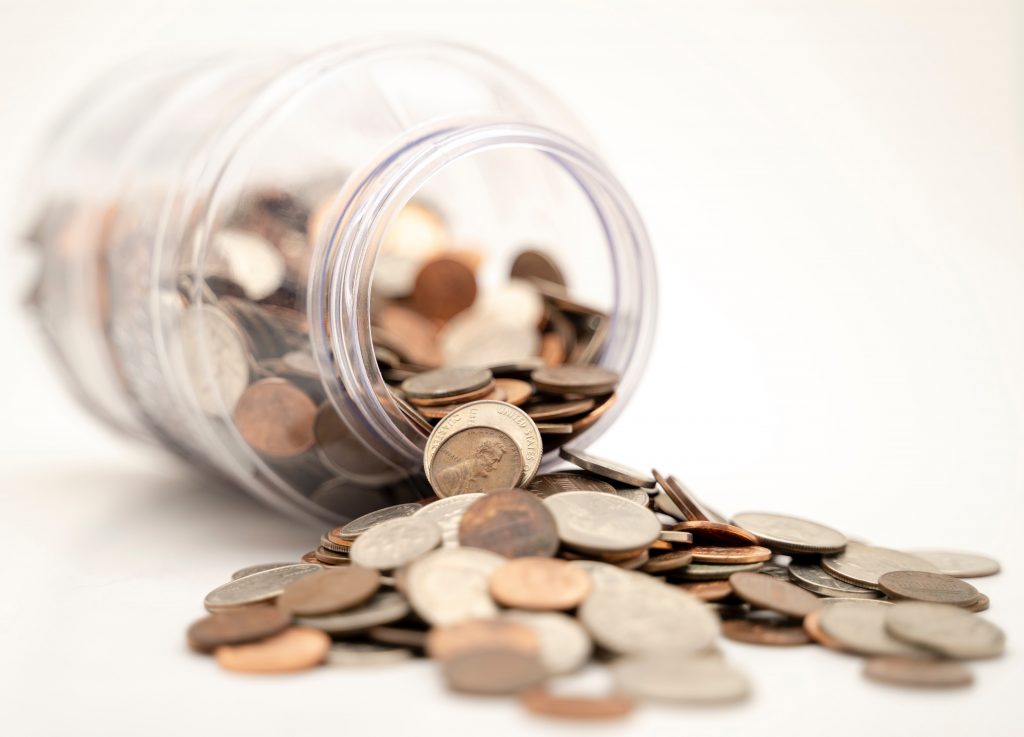 So what's the catch?
There is no catch. As Tablet Academy receives no income from any hardware device hardware sales so the service can completely impartial and free. Schools using the service still receive all quotations directly from the resellers and place their order directly with their chosen supplier. The only difference is we help them look for additional savings.
Our motivation is simply. If we can find schools savings or rewards, they may spend them towards our services such as Transformation Consultancy, Teacher Training, Student Enrichment Days, or products available in our STEM Shop.
Example Of Personal Shopper Savings This shows an example of £8000 saved by a school looking to purchase 30 HP devices and trade-in 30 old ones of any make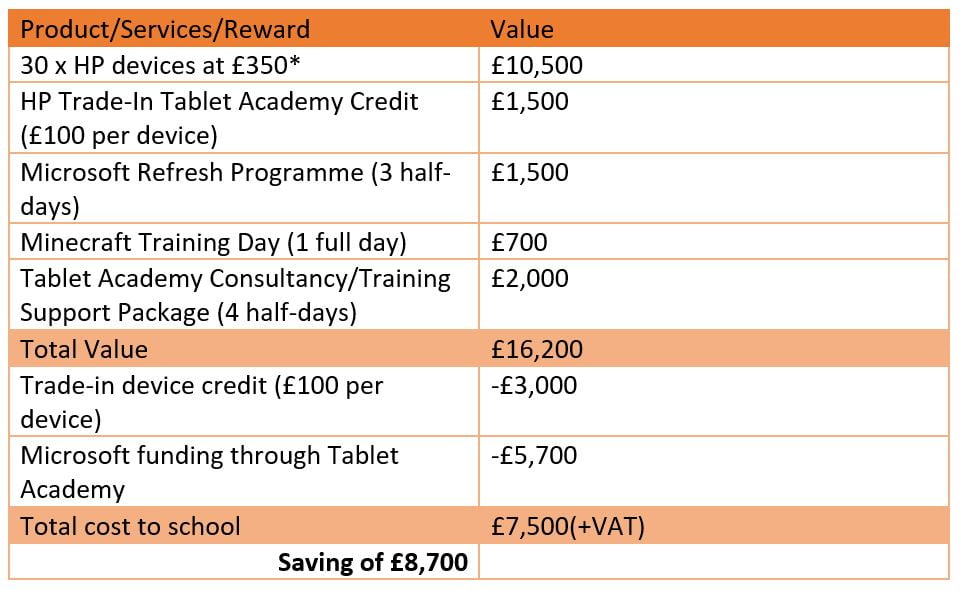 How does it work?
Schools complete a form or email us with their device requirement.
We confirm receipt of the enquiry before sharing the request with a minimum of 4 recognised and reputable educational resellers.
The resellers provide us with price quotations for the school's procurement needs.
We check the device make for eligibility against a number of reward and funding programmes available from the range of sources we are aware of.
We forward the school the original reseller quotations along with an outline of the additional rewards and funding we believe we could help the school secure.
The school confirms with us the quotation they wish to accept, as well as the additional rewards and funding they wish to proceed with.
We then introduce the school directly to an account manager from their chosen reseller who will arrange the purchase directly with them.
Once an order is processed by the reseller, we work with them and the school to secure the additional rewards and funding the school has indicated they wish to apply for
It's that easy.
So what additional funding is available?
Interestingly there are a number of funding streams available but knowing what they are, and how to access them time consuming. The aim of the Personal Shopper Services is to identify these streams and makes use of them for the benefit of the school.
As examples, at the moment we have identified a number of funding and rewards schemes currently available at the time of publication. Here are some:
The Acer STEM Rewards and Upgrade Programme
Free STEM Workshops and cashback when purchasing Acer devices.
HP for Education Trade-In Programme allowing schools to claim up to £150 for each working device traded-in when purchasing HP technology.
Microsoft Professional Development Rewards
Free teacher professional development training.
A free teacher training day in using the Minecraft Education Edition to deliver the curriculum.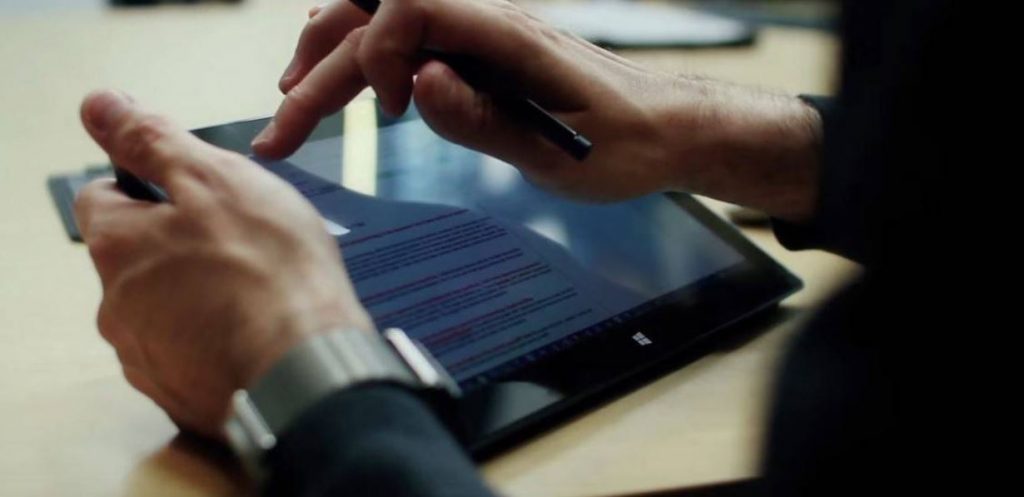 Is the Personal Shopper a valuable service?
I guess, as the saying goes, the proof of the pudding is in the eating, so here are two testimonials from satisfied users of the service.
"Tablet Academy helped us refresh all our teaching desktops throughout the trust. Having spent time understanding our needs and context, they collected all the quotes, ensured eligibility, and identified the best deal for us which secured us an additional £18,000 worth of funding. This has enabled us to purchase ongoing services free of charge from Tablet Academy to support our 3-year digital transformation implementation.", Jayne Harrison, CFO, Fierte Multi-Academy Trust
"Thank you so much for all the work you've done, it goes well above and beyond. I didn't expect that much free extensive procurement research. Truly appreciated and saved me so much time, effort, and more importantly, money." Bilal Razaq, Network Manager, St Piran's School
The Future
As schools become more and more businesses oriented and in full control of their own multi-million pound budgets, it is even more important they are offered independent services that help them to make the right choice for their school and the tax payer.
I for one believe that this form of service is just the start of a new range of services that will be offered to support schools in the location, review, purchasing and delivery of educational hardware, software, resources and solutions.
Apply here: https://ta.education/personal-shopper/