Why Consider 1:1 Student Device Programme Some opinions and ideas around 1:1 device programmes to help you decide.
TA currently supports over 1,500 schools and trains over 38,000 teachers a year. Many institutions we connect with have considered, or are contemplating if a 1:1 student device strategy would be beneficial and sustainable for their School or Trust.
When considering a 1:1 programme, we suggest looking for impact in the following four key areas: Student Achievement; Staff Efficiency, Workload, and Retention; Accessibility; and Financial Savings.
With no empirical data available, proving the benefits, or impact, that a 1:1 programme alone can have on student outcomes is very difficult. We produced the following page to support schools looking for useful information regarding 1:1 device deployment and the reasons why consider it.
A 1:1 strategy needs to be carefully planned, and before you start that process, you should evaluate the sustainability of such a programme in your school.
Please note: TA offer a free evaluation session to any school serious about exploring 1:1 devices. Contact us to arrange your free call.

Academic outcomes, work-ready skills, performance data and individual progress at all ages

TEACHING & NON-TEACHING STAFF EFFICIENCY
Reduction of repetitive tasks, streamlining of processes, sharing best practice, increasing digital skills, and improving assessment in teaching

ACCESSIBILITY & SOCIAL MOBILITY
Overcoming barriers to learning, and increasing opportunities for all students, irrespective of age, ability, or social background

Reducing overall costs linked to hardware and software procurement, services such as printing, and minimising wasteful staff time.
'Up to 70% of our teaching is now facilitated using the cloud or student devices. This is saving time, allowing us to differentiate the learning plus we're noticing big savings on print costs alone.'
Linda Edge, Deputy Head, Vice Principal, St. John Fisher School.
Journey to the Cloud participating school.
Digital Transformation - A real-life case study of a ordinary primary school's journey in adopting the cloud
Prior to the COVID-19 pandemic, TA began a research programme with a typical state primary school called 'Journey to the Cloud'. The programme involved implementing a 1:1 Windows 10 device strategy in two, year 5 classes, and providing the school with support and training to enable staff to transform their teaching using Microsoft Teams, OneNote.
Before the pandemic forced a school closure in Spring of 2020, we were recording some fascinating findings. Including the amount of money saved on printing, which it was estimated would potentially cover the cost of the devices.
Our hope is to return to the programme to document progress made past Spring 2020, once COVID restrictions are lifted and the school returns to a level of normality.
Choosing the right device for your students is a difficult decision. To help you understand what you should be considering, we've selected two common devices chosen by schools and highlighted the pro's and con's for each deployment.
Accessing the Cloud (Entry Level Device)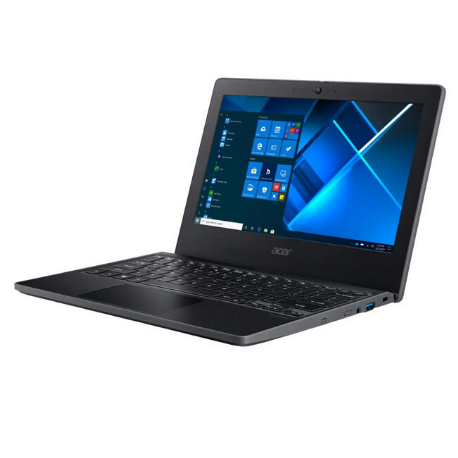 64GB STORAGE / 4GB RAM
11.6'' SCREEN / 12 HOUR BATTERY
HD WEBCAM / 180 DEGREE  HINGE
SPILL RESISTANT / ROBUST DESIGN
GUIDE PRICE £185 (+VAT)
Digital Transformation (The Ideal Device)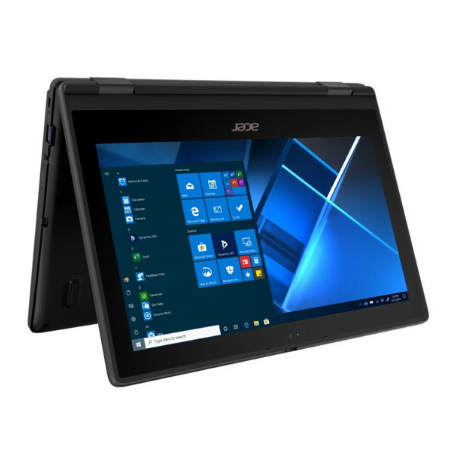 128GB STORAGE / 8GB RAM
11.6'' TOUCH SCREEN / 12 HOUR BATTERY
360 DEGREE  HINGE / ACTIVE DIGITAL PEN
HD WEBCAM + WORLD FACING CAMERA
SPILL RESISTANT / ROBUST DESIGN
GUIDE PRICE £300 (+VAT)
TA offer a free Personal Shopper Service for schools looking to purchase 25 or more Windows 10 devices. The service is designed to save you the hassle of collecting multiple quotes, but more importantly it helps you save money and identify additional funding available to cover your consultancy and training costs .
Staff adoption will either make or break your 1:1 device programme. If the devices are not used effectively in teaching and learning, parents (or governors) will question the expense and benefits.
TA can work with you in identifying a training programme that combines INSET training, after-school workshops, virtual demonstrations, peer-to-peer coaching, online tutorials, training videos, co-teaching, and long-term training programmes funded by your apprenticeship levy.
For example pricing and support packages click here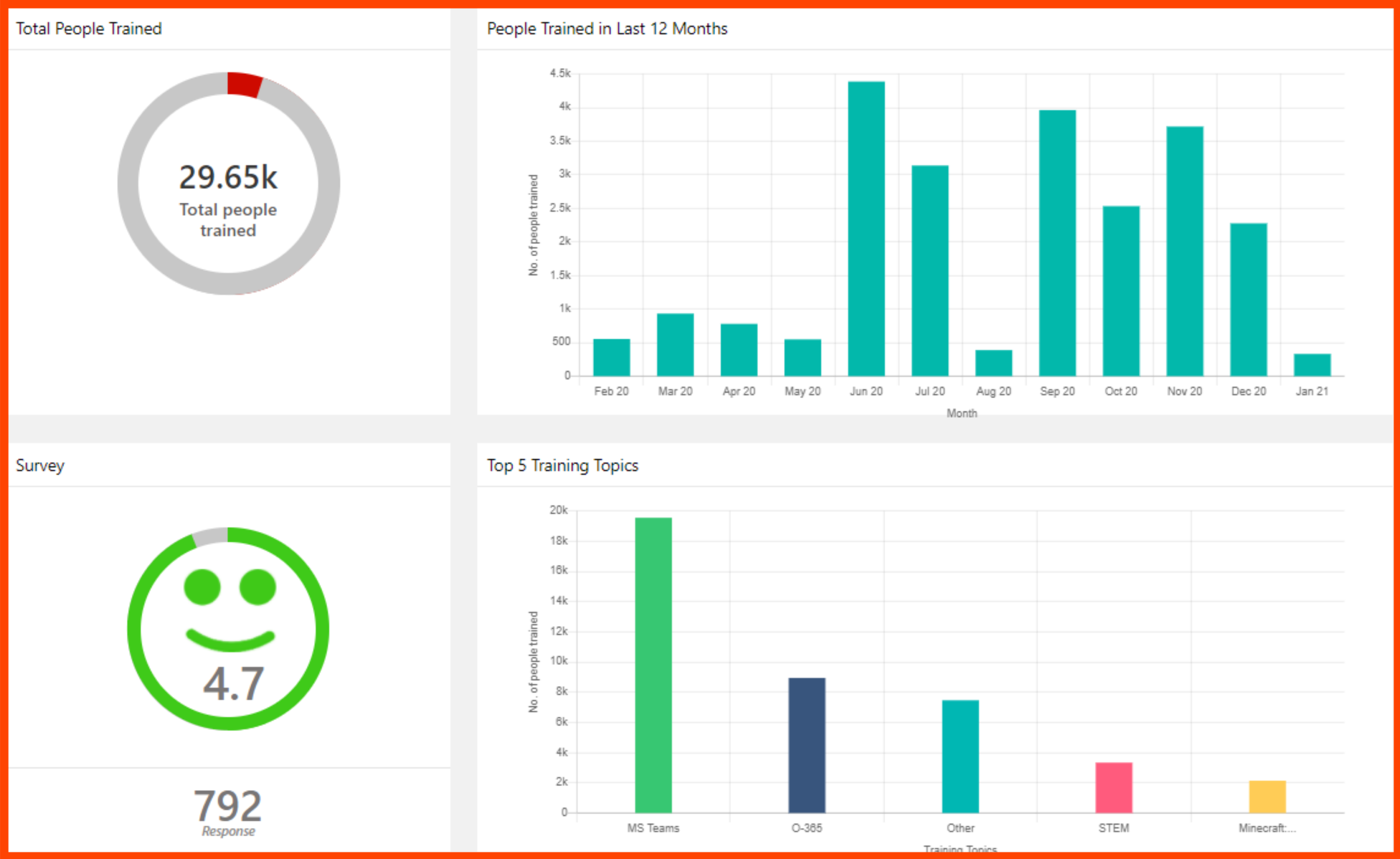 Microsoft training dashboard captured in November 2020
Should you introduce a 1:1 device programme, you must ensure it is sustainable. Using capital funds can often cause issues at the time it comes to replacing devices with more modern ones. To alleviate any future problems, we recommend leasing, or if appropriate, a parental contribution scheme.
An operating lease can spread the overall cost over a 3-year period which also establishes a natural hardware refresh programme in-line with industry recommendations. As a child may be at your school for 5 years, you may wish to combine two 2.5 year leases.
Schools may consider requesting that parents make a monthly contribution towards the cost of their child's device, or introduce a lease purchase programme where parents pay a monthly fee and own the device at the end of the term.
There are ways to set up 1:1 device programmes where the school leases the devices but collects charitable donations from parents. This can reduce the cost per month for parents but can increase the risk for the school if parents stop donating.
To demonstrate how your school may be able to start balancing the costs of a 1:1 programme, based on findings from the Journey to the Cloud programme, we have prepared an example budget.
Primary, 2-form entry (4 classes).

​

Key Stage 2 (Year 5 and 6).

​

120 x W10 devices (£200 each).

​

3-year lease agreement.

​

Presumed broadband and Wi-Fi is 

suitable for 1:1.

​

Estimated additional licensing.

​

Infrastructure saving = Server.

​

Staff training (IT staff & teachers).

​

Print saving £1,000 per class.

​

Staff saving based on 2 hours per 

class, per week at £20 per hour.

​

38 school weeks (76 hours).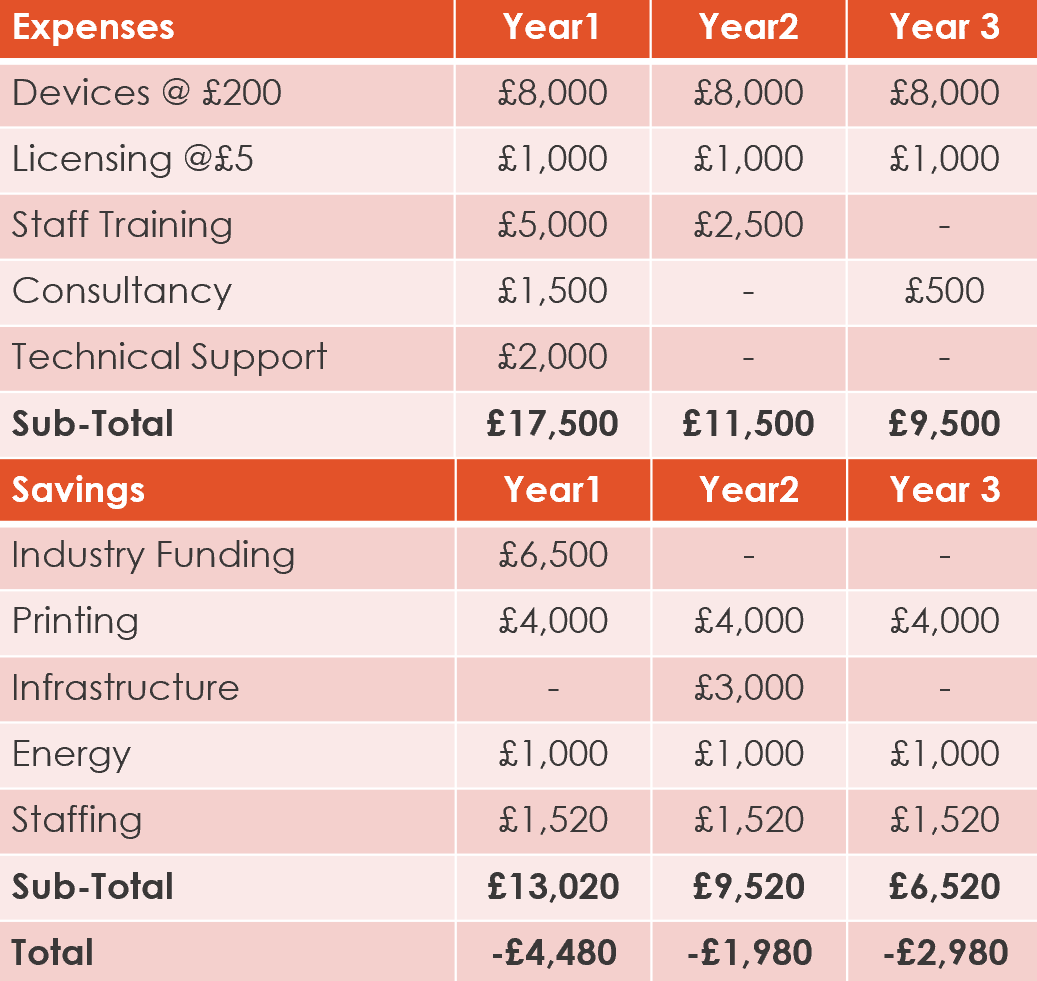 Three-year cost -£9,440 (£3,146.67 per year)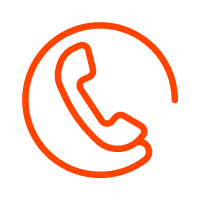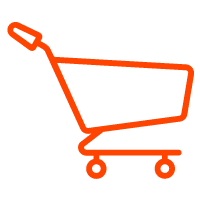 Looking for devices?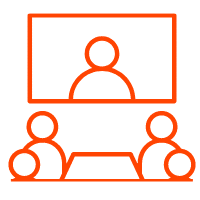 Looking for training?