The Department for Education has partnered with Microsoft and Google accredited Partners to support schools and trusts to start using a digital education platform for Remote Learning.
The following funding is available to help your school establish your cloud environment in Google Classroom or Microsoft Teams:
– £1,500 for Primary Schools
– £2,000 for Secondary Schools
– Up to £10,000 for MAT's
---
How to know if your school is eligible?
The funding is available to state-funded primary, secondary and special schools in England that don't have a platform in place, or are already using Office 365 or G Suite, but are not yet set up to assign work and communicate with pupils.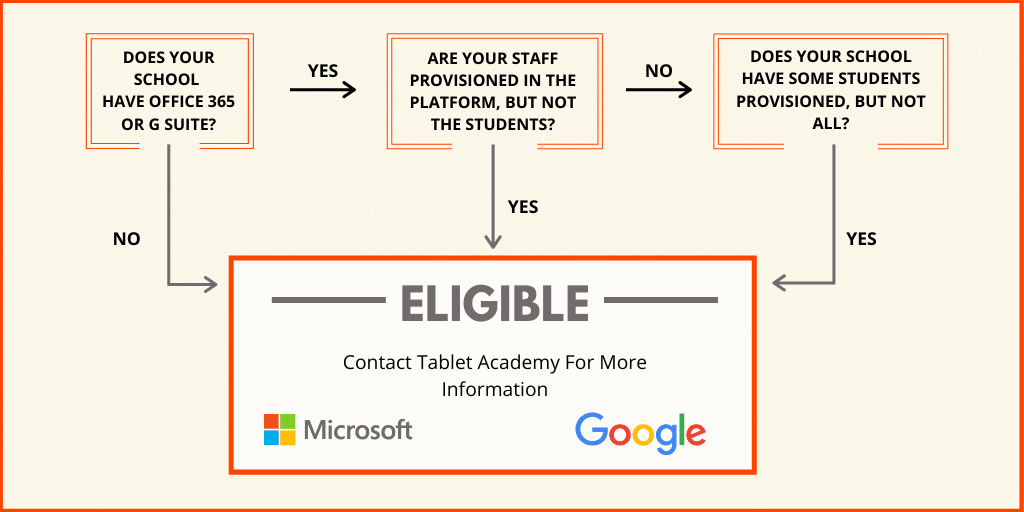 ---
What is included in the funded programme delivery?
To enable your school to have a digital education platform and support a remote learning environment, you receive the following support:
Creation of your cloud environment (if this does not already exist) on a domain of your choice including branding.
Creation of Global Administrator and administrator user accounts for different roles.
Provisioning of all user accounts for staff and students.
Creation of groups for staff, students, year groups, and teaching groups within Teams or Classroom from your data source.
Dfe recommended policies and security settings applied to your environment.
Configuration of baseline security settings.
Creation of a Homepage for staff and students to access Remote Learning Resources and Training.
Handover Document with all details and next steps to support your team's transition to Remote Learning.
A 2-hour training session with Tablet Academy for up to 20 staff focused on how to use the platform to deliver remote learning.
---
How to claim your funding
Reach out to us at info@tablet.academy and we will introduce you to an DfE authorised technical partner who will take you through every step of the process.

---
This offer is currently not available to independent schools. However, we have a range of remote services to meet your institutions current and future needs. This includes Cloud Essentials, a support service designed to enable your school to begin delivering remote teaching .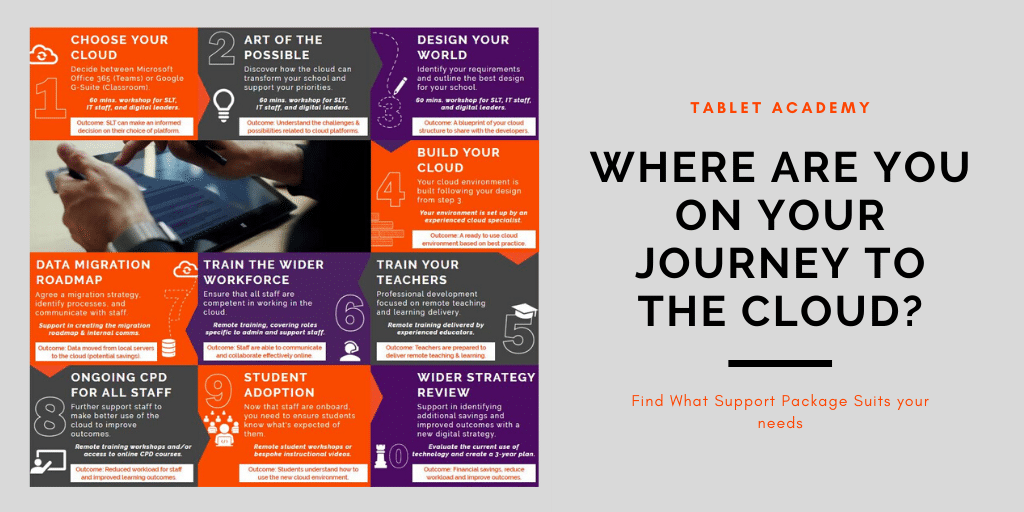 For more information about our remote services, visit https://ta.education/remote-services/
To keep up to date with all our news a free offers, sign up to our newsletter here: https://ta.education/newsletter-signup/