Introduction
I must begin by defining how I am using the term revolution. The dictionary defines a revolution as (1) "a forcible overthrow of a government or social order, in favour of a new system", and I am not advocating this by any means, or (2) "a dramatic and wide-reaching change in conditions, attitudes, or operation". I think we would all agree that the various changes that have taken place over the past six months have, and continue to be dramatic and wide-reaching. But how do these relate to a revolution in education? Well to begin with let's look at the conditions, attitudes and operations that began late spring of 2020.
High peaks of positive testing of Coronavirus led to the initiation of Social Distancing.
Non-essential Shops, Theatres, and other venues of high occupancy closed.
All but non-essential workers were told to stay and work from home.
Schools were next to join the ranks of closed buildings.
The education sector realised that the only way to continue was to teach remotely, and that meant moving to the cloud and fast.
Systems such as Google Classroom, Microsoft Teams, and Zoom became vital tools to "Stay calm and carry on as normal – but remotely."
Many Teachers realised that their school had the technology, but they lacked the skills.
The UK DfE initiated a funded programme to kickstart as many schools as possible to move to the cloud and get basic training.
The requirement for teacher training in remote teaching and learning tripled within two months.
The short timeframe in which all this happened had, and continues to have, a massive impact on the working and social lives of everyone. What is worse is that the fallout of the coronavirus pandemic strategies taken by governments around the work will have long-lasting consequences for all.
Education leaders have now realised that the delivery of education will NEVER be the same, as is also true of the workplace. One of the consequences of this is that having demonstrated by necessity that working remotely is not only possible but also for many preferable, the digital divide in our society has become even greater.
March 2020: The revolution hits Tablet Academy
Over the past six years, Tablet Academy has risen to become one of the leading companies in the UK to help organisations make use of new technologies to transform work practices and teaching and learning. As a platform-agnostic provider, and therefore seen by many as the impartial bridge between workforce and technology, we help over 1000 schools develop their transformation strategy, deliver training to over 20,000 teachers, and run numerous student engagement workshops and learning festivals each year. Of course, these have all been delivered face to face.
Early March 2020, we realised that not only was the Coronavirus here to stay for some time, but it would not be long before schools would be closed, and as such our primary income stream would implode.
We, therefore, made an early strategic decision to adapt every service we provide to be delivered On-Site (Face to face), Remotely (Video Call, Webinar, real-time Interactive Workshop), or Hybrid (Video Call, Webinar, real-time Interactive Workshop, and asynchronous online tutorials)
That decision one certainly one of the best we ever made. Let me take as an example of the services we provide for users of Microsoft products. Before 'lockdown' and school closures our Microsoft training staff would train an average of 1,200 teachers per month on using Teams and other Microsoft product to support their teaching, with the exception of October and November when most schools are looking at getting in-service professional development across the school, and August and September when schools are either closed or settling in their new students. As shown in figure one, this doubled in June and July of 2020, given the growing need for good quality effective training in Remote Teaching and Learning.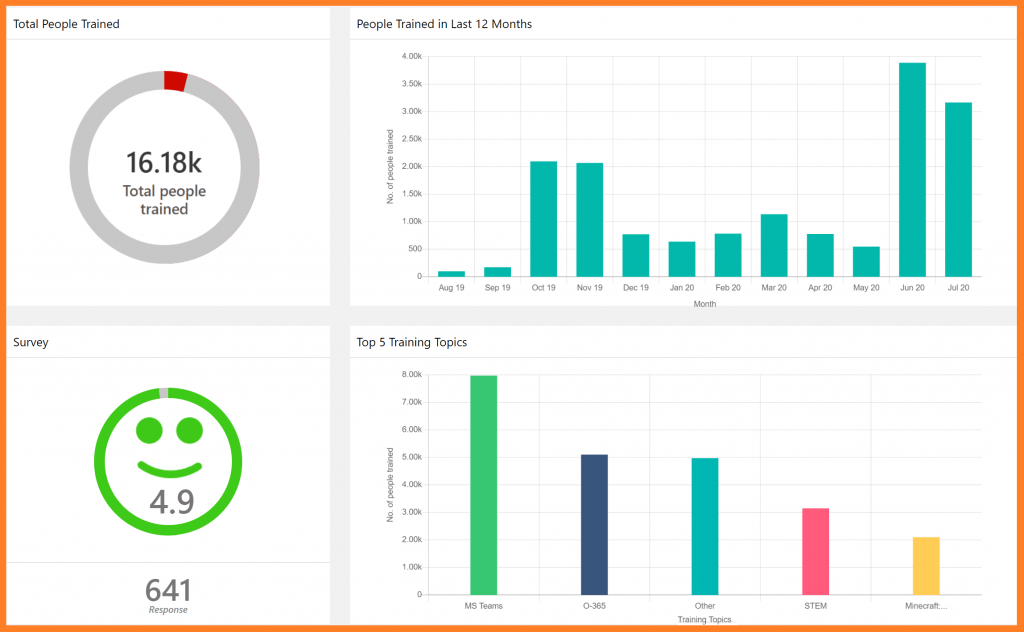 It is also interesting to note that most of this training was in the effective use of Microsoft Teams to support remote teaching.
In July 2020 the UK Department for Education, in partnership with Google and Microsoft, initiated a funded programme to get as many schools into the cloud as possible and in the shorted possible time-frame if a COVID-19 wave hits again post the schools returning in September. Several technology solution providers became qualified by the DfE to deliver the programme. These consisted of consultancy for senior school leadership in what was possible using the technology, the implementation of a Google or Microsoft platform overseen by the school IT Manager, and a minimum amount of teacher training to ensure the school could make the best use of the technical solution provided.

At this point, I must say that the insight to provide this programme was the smartest thing the government did during the crisis. I believe this will have a far more significant impact on education than some of the other government initiatives, such as providing lists of free online resources for students. But I digress.

Given our expertise in teacher training, working closely with all the platform providers equally, and are adept at providing the training and other services remotely, Tablet Academy was chosen by many registered solution providers as their partner of choice to deliver the Consultancy and Training services to their allocated schools.
All of this led to an unexpected surge in the request for our services, a silver-lining to what can only be described as the dark storms of COVID-19.
The Wider Impact
What of the wider effect of COVID-19 education, business and government strategies?
Like many, I believe that education will never be the same. The provision of ever-evolving 21st-century collaboration and communication tools, coupled with the power of teachers trained in their use, begs the questions, is the bell beginning to toll for the 'traditional' bloated form of online learning? The VLE/LMS deployed en-masse in schools during the latter part of the 20th century with great gusto was seen as the answer to remote education.

I, for one hope so. I never saw the VLE as an online replacement for educators, but as a simple mechanism designed to provide support to students at a time and place convenient to them. The Covid-19 crisis has equipped us with a laboratory to demonstrate how adaptable teachers can be when provided with the right technology and the necessary technical and soft skills, namely a truly shared, emotive, and synchronous learning experience that links student and teacher remotely.
Let's hope that unlike policymakers of the past, today's remember that it is a good teacher with the right toolkit and the right training that provides a good education, not technology. Or at least not yet!
By Steve Molyneux, Tablet Academy CEO
Coming Soon, Part 2 will focus on what changes I believe will take place across the education sector globally, with a focus on primary and secondary schools.